Student non-members: 15 euros

How to login to the conference platform
If you participate in the online ESHE conference for the first time you receive an email with a username and password to log into the ESHE Conference web site. If you participated in the ESHE 2020 online conference your account will be reactivated and you can log in using your previous credentials, which you will receive in an email. As with last year, we are hosting the conference on the Google Workspace platform, and so logging into the meeting website is the same as logging into any Google account.
The following instructions assume that you are using Google Chrome. It likely works with other browsers, but Chrome also likely does the best job managing your login. If you don't have Chrome, you can download it here.
Step 1:
Open Chrome. If you already have a Google account, you may want to log out of all accounts first by clicking on your account in the upper right corner. If you do not have an account or once you have logged out, click on the right left corner where it says "Sign in".
Step 2:
On the Choose Account screen, select "Use another account".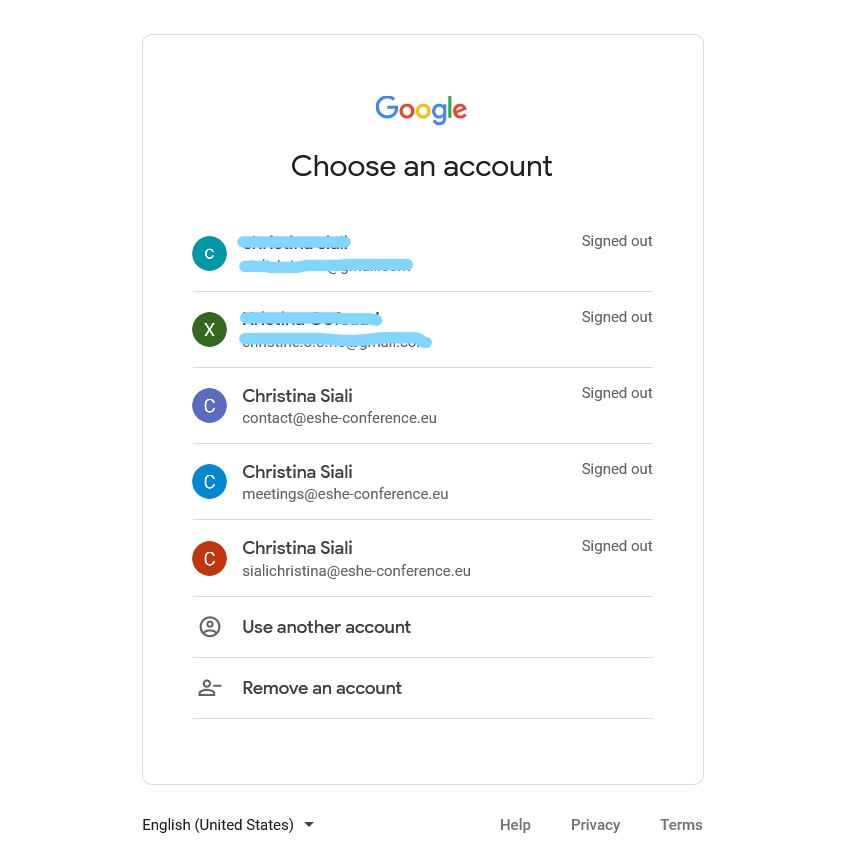 Step 3:
On the Sign In screen, use the login name we sent to you. Normally this should be the same name you use for your contact email with ESHE plus @eshe-conference.eu. If you have trouble finding this, please contact us at meetings@eshe-conference.eu.
Step 4:
Now provide your password. Again, if you are a new participant we sent this to you in an email. If you have participated in the ESHE 2020 meeting , use you old password. If you have trouble remembering your old password click on the ''forgot password'', we set the recovery email as your normal ESHE contact mail. If you encounter any problems during this procedure, please contact meetings@eshe-conference.eu.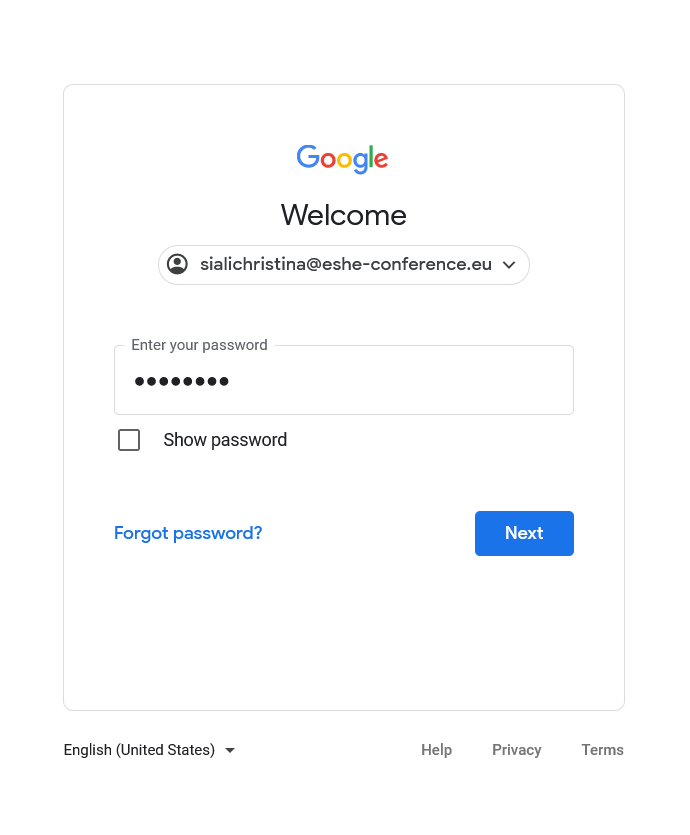 Step 5:
For new participants : When you first log in, Google will require you to set a new password. It is important that you use something secure but also something that you can remember for the duration of the conference. Note that it is impossible for us to know your password once you have reset it. If you do have trouble afterwards logging back into the system, we can reset your password. We have also made your normal ESHE contact email address the recovery address for your password. Again, if you have trouble, contact us at meetings@eshe-conference.eu.
Step 6:
Once logged into your account please use the dashboard (dots on the upper left corner) to access the google drive as well as the inbox.

For uploading content on the drive, please follow the instructions sent to you in the 'Login information and Upload content' email.
---
ESHE Meetings

Dates
TBA
21-25 September
22-26 September
24-25 September
19-21 September
13-15 September
21-23 September
14-18 September
10-12 September
18-20 September
19-21 September
21-22 September
23-24 September