For the ESHE 2023 abstracts click here.
For the ESHE 2023 updated schedule click here.
Contents
---
ESHE 2023 Meeting
The 13th annual ESHE meeting will be held in person in Aarhus, Denmark, from September 21st to 23rd of September 2023.
Preregistration and the public keynote lecture, as well as the opening reception will take place on September 20th. The excursion will take place on September 24th. Registration for the meeting is now open. Building on the success of last year's hybrid conference, ESHE 2023 will once again offer a combination of physical and virtual participation. Members of ESHE will have the opportunity to follow the presentations online, as well as the option to attend in person and view presentations, streamed live into the conference room.
Members do not need to register for the meeting to receive access to the video stream, but you must have paid your membership dues for this year. Use our contact page if you are unsure if you have paid. Non-members who would also like to attend virtually must register and pay meeting fees to receive the access to the video stream.
Please note that pre-registration prices, will be available until July 1st.
Special Thanks to the local organizers: Trine Kellberg Nielsen, Felix Riede, Shumon Tobias Hussain
---
Abstract Submission – Deadline May 12th
Abstract submission is open and will close at Midnight (PST) on Friday, 12th of May.
Please make sure to register first and to follow the guidelines listed on the abstracts page. We strongly recommend registering and paying the conference fees at least one week before abstract submission. Accepted presenters will be notified in July. As always, the conference will feature Podium, Pecha Kucha and Poster Presentations.
---
Information for Presenters
Podium Presentations
Each presenter will have 15 minutes to present and a strict 5-minute time limit at the end of each session for questions directed at the presenter. All Podium presentations will be given in person.
Pecha Kucha Presentations
Pecha Kucha presentations will be presented either online (with a limited number of presenters) or in person. Each Pecha Kucha presentation will be strictly limited to 6 minutes and 40 seconds and must contain exactly 20 slides (inclusive of title and acknowledgement slides). For more information on the Pecha Kucha format, please visit www.pechakucha.org.
Poster Presentations
All posters must be in A0 Portrait format. Landscape format cannot be accepted due to space requirements. Presenters are expected to print and bring their posters with them to the meeting and display them before the first poster session. Presenters are responsible for hanging their own poster on the designated board. Presenters are responsible for removing their posters after their poster session. All poster sessions will be held in person.
Student Prizes for Best Pecha Kucha and Poster Presentations
ESHE is planning to award student prizes for Pecha Kucha and Poster presentations.

---
Student Travel Grants – Deadline June 4th
ESHE will offer a limited number of travel grants to students attending the 2023 ESHE meeting.
Criteria:
Applicants must be members of ESHE.
Applicants must be presenting either a Podium, Pecha Kucha or Poster presentation at the meeting.
How to apply:
First ensure that you have registered for the 2022 meeting and have submitted an abstract.
Send a letter of financial justification to meetings@eshe-conference.eu by Saturday, 4th June. This letter must include:
Information on where you will be travelling from
A list of your anticipated expenses
Information on any other funds you already have at your disposal (i.e. grants, scholarships, stipends)
A short CV, maximum 1 page.

---
Childcare
We're pleased to announce that, as in past conferences, we will be supporting parents attending our upcoming event by offering 250-euro vouchers towards childcare and related expenses. We understand the difficulties parents face and are committed to making our event as accessible and inclusive as possible. As such, we would also like to inform attendees that baby-wearing is permitted at the conference provided the conference is not disrupted, and we are currently looking into designated breastfeeding spaces. Interested parents can apply for the voucher via email at meetings@eshe-conference.eu before July 31st. Please send us a short paragraph listing the age(s) of your kid(s) and how you plan to spend the voucher money.

---
Board and Board Officers Election
This year ESHE members will vote for a new set of regular board members and board officers. The elections will be conducted on our secure online platform, and every member who paid their membership dues for 2023 can participate. Check out the candidates here.

---
Venues and Excursion
Public keynote and Opening Reception/ Preregistration, September 20th
The Public keynote will take place by Prof. Eske Willerslev in the Aula at the Aarhus University-Main Campus.
Title: Hunting the Molecular Past Human population genomics, disease genetics, pathogens, and environmental DNA
Over the past decade ancient genomics have changed our understanding of human history, disease evolution, and ecosystem changes in responses to changing climates. In this talk, I will present several examples of work, where my group has used ancient genomics to address questions related to archaeology, ecology and medicine. It will cover the environment before the last Ice Age, the mass extinction of the Ice Age mammals, the early peopling of the Americas and Europe, the origins of multiple sclerosis and other diseases, as well as the spread and evolution of human pathogens.
ESKE WILLERSLEV'S PUBLIC KEYNOTE ZOOM INVITATION
Topic: ESHE2023 - Eske Willerslev
Time: Sep 20, 2023, 04:30 PM Paris
To join the Zoom Meeting, click here
Meeting ID: 626 2974 2533
Passcode: 837013
The opening reception will take place in the adjoining Hall ("Vandrehallen") as well in the Museum of Ancient Art.
Pre-registration at Vandrehallen, AU city campus: 13:00-17:00
Welcome & public talk Eske Willerslev at Main Aula: 17:00-18:30
Reception at University of Aarhus and Museum of Ancient Art: 18:30-20:00
Outside of Main Aula, University of Aarhus and Museum of Ancient Art

Conference and Poster Sessions, September 21st - 23rd
The Presentations will take place in the Aula at the Aarhus University Main Campus whereas poster sessions and lunch will take place in the "Stakladen" with seating options in "Mogens Zieler Stuen", "Preben Hornung Stuen" and "Preben Mortensen Stuen". .
Main Aula and Stakladen, University of Aarhus


Dinner, September 23rd
The Conference dinner will take place at Restaurant Anker located at the Aarhus harbour seafront ca. 30 min walk from the conference venue https://restaurantanker.dk/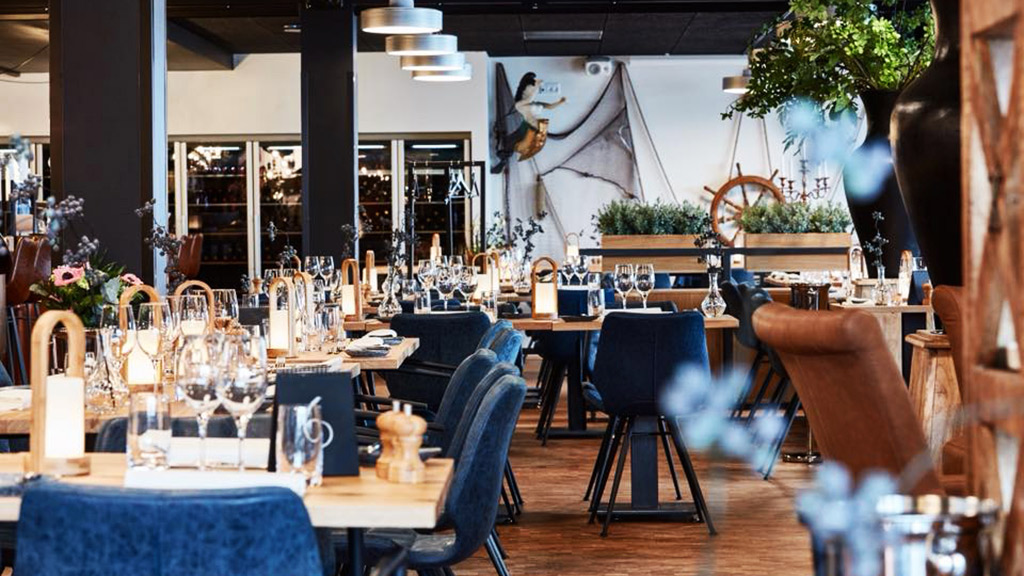 Restaurant Anker

Excursion, September 24th
The excursion will take place in the Moesgaard Museum located ca 25 min drive outside the city centre. This world-renowned museum is one of the largest cultural-historical museums in Denmark and houses both archaeological and anthropological exhibitions https://www.moesgaardmuseum.dk/
Moesgaard Museum

---
Local and Travel Information
Travel to Aarhus:

By Train: As part of the ECO ESHE 2023 initiative, we encourage all attendees to consider environmentally friendly methods of travel, such as opting to take the train if possible. Aarhus is served by the Aarhus central station, which is well-connected to the European Rail Network.
By Air: Aarhus can also be reached via the Aarhus Airport
For participants who must come by air, we encourage you to consider flying non-stop to reduce fuel usage and/or to purchase carbon offsets. Carbon offsets can often be purchased directly from airlines or by supporting projects directly. For examples of where to learn more about carbon offsets, see the following websites. Please note ESHE is not affiliated with any of the following organizations.
Gold Standard
---
Accomodation
The following hotels have offered discounted rates for those attending ESHE 2023
Please make sure to indicate that you are participating in the ESHE conference.

Scandic Aarhus City
We have 50 pre-booked rooms at a reduced price between 20/9-24/9 2023.
Booking via the website or via direct contact using the following booking code.
Booking code: Please contact us for the booking code (contact@eshe-conference.eu)
E-mail: aarhuscity@scandichotels.com
Tel: +45 89318100

BOOK1 Design Hostel by Brøchner Hotels
Booking via direct booking link. Please contact us for the link (contact@eshe-conference.eu)
https://www.brochner-hotels.com/book1/

Wakeup Aarhus
Booking via direct booking link. Please contact us for the link (contact@eshe-conference.eu)
The offers are subject to availability.